🌒 🌓 🌕 🌗 Waxing Crescent Moon, sky cover overnight Tue. to Wed. 65% to 93% to 84%, winds SSE to E to ENE, 6 to 15 MPH, G15 to 24 MPH 10 into Wednesday, Low 34, 3a to 6a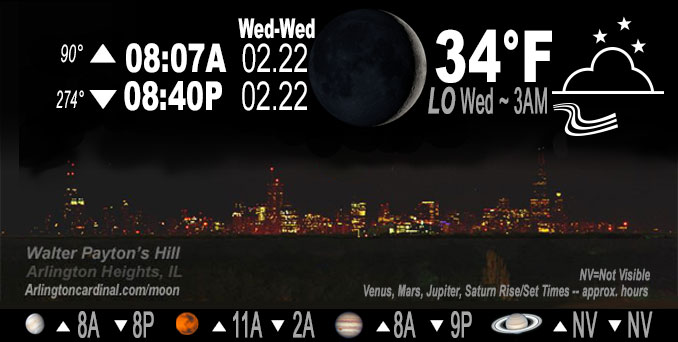 NWS CHGO | NWS HRLY | /NWSchicago | 🌡
ARLINGTON HEIGHTS WEATHER
▴ forecast7 (Arl. Hts.) | RADAR | WIDE RADAR
⏪ Hrly Data Table | Hrly Future Graph ⏩
IMPORTANT NOTE ON NWS DATA
======================
NIGHT FORECASTS …
NOTE: Keep in mind lunar rise and set times don't always correspond with night weather and early morning lows because on some days during the month the moon is visible in the sky predominantly during the daytime hours.
Overnight Tuesday/Wednesday …
Weather Hazards expected
Elevated Flooding Risk Wednesday afternoon and evening.
Elevated Ice Accumulation Risk in far northern Illinois.
Limited Sleet Risk in far northern Illinois.
Limited Thunderstorm Risk Wednesday afternoon and evening.
Limited Non Thunderstorm Wind Risk.
DISCUSSION…
Periods of freezing rain, mixed at times with sleet, is likely across portions of interior far northern Illinois Wednesday and Wednesday evening. Accumulating ice and sleet is possible, most notably near the Wisconsin state line. Elsewhere, periods of heavy rain may produce localized flooding, along with significant rises on areas rivers. Isolated thunderstorms may also accompany the heavy rain Wednesday afternoon and evening.
Hello mobile users! If you encounter mobile "unfriendly" weather page, turn your phone sideways for a better view.
======================
O'HARE FORECAST …
Forecast Beginning Tuesday Night, Feb. 21, 2023 …
Tuesday Night: Cloudy, with a low around 32. East wind 5 to 15 mph, with gusts as high as 25 mph.
Wednesday: A chance of rain and sleet before 9am, then rain. The rain could be heavy at times. High near 37. East northeast wind around 15 mph, with gusts as high as 30 mph. Chance of precipitation is 100%. Little or no sleet accumulation expected.
Wednesday Night: Rain, mainly before midnight. Low around 33. Breezy, with a northeast wind 10 to 20 mph, with gusts as high as 30 mph. Chance of precipitation is 90%.
Thursday: A 20 percent chance of rain before noon. Partly sunny, with a high near 45. Windy, with an east wind 10 to 20 mph becoming west 20 to 30 mph in the morning. Winds could gust as high as 45 mph.
Thursday Night: Mostly cloudy, with a low around 16. Breezy.
Friday: Partly sunny, with a high near 26.
Friday Night: Mostly cloudy, with a low around 21.
Saturday: Mostly sunny, with a high near 40.
Saturday Night: Partly cloudy, with a low around 26.
Sunday: Mostly sunny, with a high near 42.
Sunday Night: A chance of snow. Partly cloudy, with a low around 29.
Monday: Rain likely. Mostly cloudy, with a high near 47. Breezy.
Weather Forecast, Night Sky Archive NWS O-Hare
Weather Forecast, Observations Archive NWS O-Hare
O'Hare forecast archive and hourly weather observations archive are available HERE on the CARDINAL NEWS Magazine.
KORD/KPWK Hourly Weather Observations
Arlingtoncardinal.com/moonphases
Arlingtoncardinal.com/nightsky
NIGHT SKY THIS MONTH …
Check the night sky objects for this month and past months in the playlist from the Space Telescope Science Institute YouTube channel Backyard stargazers get a monthly guide to the northern hemisphere's skywatching events with "Tonight's Sky" (Musical track The Far River written by Jonn Serrie, from the album And the Stars Go With You courtesy of New World Music Ltd. Musical track The Far River written by Jonn Serrie, from the album And the Stars Go With You courtesy of New World Music Ltd).
Telephoto lens, ISO 100, f/11, Shutter Speed 1/100 to 1/125 for the Moon.
Get updates from The Cardinal ALL NEWS FEEDS on Facebook. Just 'LIKE' the 'Arlington Cardinal Page (become a fan of our page). The updates cover all posts and sub-category posts from The Cardinal — Arlingtoncardinal.com. You can also limit feeds to specific categories. See all of The Cardinal Facebook fan pages at Arlingtoncardinal.com/about/facebook …

Help fund The Cardinal

Arlingtoncardinal.com/sponsor
Telephoto lens, ISO 1600, f/11, Shutter Speed 2.5″ for the skyline. The skyline exposure was toned down, and brightness and contrast was adjusted in Photoshop.
Area Forecast Discussion
National Weather Service Chicago/Romeoville, IL
908 PM CST Tue Feb 21 2023
.UPDATE… Issued at 905 PM CST Tue Feb 21 2023
We will not be making any big changes to the forecast this evening given the lack of observational evidence to steer the ship on a different course, though it is a challenging forecast as we head into Wednesday. It`s pretty tough to ignore some of the earlier guidance from our freezing rain accumulation models putting out some significant ice accumulations coupled with a decent winds, and also a signal in some recent CAM runs of even some icing potential into the Chicago metro area with the first precipitation surge in the morning.
But looking at the big picture, temperatures have been holding steady this evening across the area even as dewpoints rise. Forecast soundings depict a fairly warm layer aloft will be advecting in later tonight and tomorrow. Meanwhile, the low level cold layer does not appear to be deep enough to support too much in the way of sleet. Without a significant surge of cold air, we will need some wet-bulbing to bring temperatures down over the metro area. The debate is still on as to how much precipitation will be occurring into the colder air mass in the morning hours, latest RAP runs and 0z NAM really not that aggressive with the northern extent of heavier precipitation.
The heavier rates will becoming in as the warm nose surges farther northward. Our northern tier of counties remain in a precarious position, but at this distance confidence in more impactful ice accumulations is not high enough to steer towards a warning until our midnight shift gets a chance to watch the evolving observational trends and new 0z guidance.
KMD/NWS Chicago
&&
.SHORT TERM… Issued at 315 PM CST Tue Feb 21 2023
Through Wednesday night…
Key Forecast Messages and Concerns:
* Wintry Mix With Accumulating Ice and Sleet on Wednesday:
Winter Weather Advisory issued for areas north of I-88 6 AM Wednesday-6 AM Thursday, with exception of DuPage and northern Cook where confidence is lower in any ice accumulations. Greatest concern for state line counties where ice accumulations of greater than 1/4 inch are distinctly possible and we do have some localized accums up near 0.3″.
There are competing factors tomorrow and tomorrow night regarding surface temperatures of 32F or lower being realized, accretion efficiency during the highest precip rates Wednesday afternoon, and the mild antecedent conditions plausibly supporting a scenario in which ice accums and impacts are lower. However, on the other hand, can`t ignore the signal from the 12z and new 18z operational models, plus the 12z HREF mean. The overall trend today was for near or below freezing temps to have a farther south footprint. Contemplated going to an Ice Storm Warning for the WI state line counties, but given the concerns about less ice and lower impacts, opted for advisory issuance.
The earlier precipitation onset Wednesday morning is now more likely to overlap with temps being near or a bit below freezing near and north of I-88, again with higher confidence well inland of the lake. This was part of the reasoning for including Ogle, DeKalb, and Kane Counties in the WWA. It`s quite possible impacts are limited Wednesday morning and then temps warm above freezing, but admittedly confidence is low in the exact 2m temps. Then on Wednesday evening when precip rates diminish, the winds will shift to more northeast or north-northeast from east-northeast during the day. This could allow for some colder air to bleed south and renewed ice accums down closer to I-88 corridor if plain rain is observed Wednesday afternoon.
Given the warm antecedent conditions, any road impacts may be relegated to elevated surfaces until Wednesday evening when accretion rates may improve. For the state line counties, the threat for accums up to 1/4″ or a bit more does introduce a higher threat for tree damage, ice accums on powerlines, and power outages, also taking into account the northeasterly winds gusting up to 35 mph. Finally, yet another potential "fly in the ointment" is accumulating sleet, owing to likely embedded convective elements, plus low level cold wedging (with model variance on magnitude of this). Should sleet overperform, there is a threat for accums nearing 1/2″ closer to the WI state line.
Given all of the counteracting points of uncertainty tomorrow, despite plausible threat for more widespread ice accums greater than 1/4″ along WI state line, opted with this issuance for the WWA and will let midnight shift consider whether an upgrade to Ice Storm Warning is warranted.
* Heavy Rainfall and Embedded Thunderstorm Threat on Wednesday:
The 350-400% of normal PWAT plume potentially upwards of 1.3″ (at or above Feb max for ILX) will surge northward on Wednesday amidst strong large scale ascent from upper jet dynamics and a stout positively tilted mid-level short-wave and speed max. This will be juxtaposed with a potent low-mid level baroclinic zone draped across the region. Finally, the anomalous warmth associated with the moist plume can be expected to steepen lapse rates enough for isolated to scattered embedded thunderstorms mid day Wednesday through early evening, particularly near and south of I-88/290.
Due to the above factors, rainfall, heavy at times, is expected on Wednesday afternoon across most of northeast Illinois and northwest Indiana. Local areas may receive rainfall heavy enough to cause river rises, widespread ponding of water, and localized flooding. 6-hour rainfall amounts of 1 to 1.5″ are forecast in the heaviest swath from noon to 6pm on Wednesday. While a slight southward shift was noted in the 12z guidance and ensemble means, the threat for very heavy rainfall does extend into the southeast 1/2 or so of the Chicago metro and points south and southeast. The 12z HREF probability matched mean indicates threat for a localized corridor of 2-3″ amounts, though confidence is lower end in occurrence and the exact location of this localized corridor of heavy rain. Latest trends suggest relative threat zone for this corridor of higher amounts is near and southeast of I-55 down to the US-24 corridor (and we do have isolated spots of just above 2″ event total QPF in the gridded forecast).
Soil moisture ranges from near average in east central Illinois to above average in northern Illinois. Most area soils have no remaining frost depth except for the headwaters of the Fox and Rock rivers in southern Wisconsin. All snow cover has melted due to recent mild temperatures. The lack of snow cover and frozen soils may somewhat reduce the risk of more impactful flooding, but this may be balanced out by the expected heavy rainfall rates, elevated soil moisture, and lack of evapotranspiration. The current forecast of 1 to 2 inches of rainfall would likely cause several area rivers, including the Little Calumet, Kankakee, Iroquois, Fox, and Illinois, to near or exceed bankfull levels.
With the off the charts moisture parameters, but key points of uncertainty (exact location of heaviest rainfall; shorter duration of heavy rates; possibility of true warm sector convection robbing some of the moisture transport; and lack of river ice and frozen grounds), opted to re-issue the ESF focused south of I-88. May need to consider a targeted Flood Watch if confidence increases in the 2-3″ rainfall corridor through Wednesday afternoon, which would increase the chance of more than minor flooding/road ponding type impacts, as 6-hour flash flood guidance is around 2″.
* Threat for localized thunderstorm wind damage Wednesday in parts of central Illinois into central Indiana:
The warm sector south of the sharpening warm front east of developing low pressure on Wednesday will be characterized by temperatures of 55-60F and dew points into the 50s. HREF CAM guidance depicted a scenario in which small convective segments aided by gravity wave propagation may yield localized corridors of damaging winds. Confidence is low in how far north this threat will extend, with south of US-24 currently the area of greater concern. SPC did expand the day 2 "marginal" (level 1 of 5) risk to include parts of central IL into IN. Officially this clips southern Ford County. This will certainly be something to monitor, plus low CAPE, high shear cold season set-ups also bare close monitoring for brief fast-moving tornadoes.
Castro/NWS Chicago
Area Forecast Discussion
National Weather Service Chicago/Romeoville, IL
314 AM CST Wed Feb 22 2023
.SHORT TERM… Issued at 310 AM CST Wed Feb 22 2023
Through Thursday…
We have opted shift the headlines towards an ice storm warning for the inland northern tier IL counties for today and tonight as confidence continues to increase in temperatures here remaining below freezing through the entire precipitation event. Other change to headlines was to add in Lee, Dupage and northern Cook into the advisory as these area also look likely to experience some minor icing impacts, especially this morning.
Overall, the main concerns from this precipitation event today and tonight include:
* Significant icing threat across far northern IL, with greatest icing amounts likely across the northern tier counties in IL inland from the lake. These areas are likely to remain below freezing through the entire event today and tonight, thus resulting in up to a half inch of flat ice accumulation, with additional sleet accumulations also possible near the WI state line. Also of concern is the fact that east-northeast winds will be gusting up around 35 mph this afternoon and evening, thus exacerbating the potential impacts to tree limbs and power lines from the ice accumulations.
* Hydro concerns also continue to be elevated through early evening as a period of steady heavy rainfall occurs. The highest threat area for a narrow east-northeastward oriented corridor of 2″+ inch rainfall amounts and potential flooding continues to be favored generally southeast of the I-55 corridor. This area is likely to see the most intense periods of west to east training convective cells north of the surface warm frontal boundary into early this evening. As such, the potential exists for localized excessive rainfall amounts that may lead to flash flooding and significant rises on area streams and rivers. We have opted to hold off on issuing a flood watch, and instead continue to message this threat in an ESF.
* In addition to the variety of precipitation types this storm will also bring with it blustery winds today with even stronger winds for Thursday. Guidance seems to have tracked slightly further southward with the initial surface low that is expected to move across central Illinois into central Indiana later today. This track is expected to generate blustery east-northeasterly winds across much of the area, but especially for areas along and north of I-80 where gusts of 30 to 35 mph are expected. As this initial low moves east, a stronger secondary surface low is expected to move across the region overnight tonight into the early part of Thursday morning. Strong pressure rises on the order of 10 to 15 mb per 6 hours are expected in the wake of this low which will increase winds during the morning hours on Thursday with the strongest winds expected peak during the late morning and afternoon. While forecast soundings are not showing nearly as strong of winds aloft as this time yesterday, it still looks like we will be able to generate gusts in the 40 to 45 mph range as the cold advection in the wake of the low deepens the mixing potential. Winds will slowly begin to ease late Thursday evening and continue to do so through the night.
KJB/Yack/NWS Chicago