🌖 🌗 🌑 🌓 Waning Gibbous Moon, snow showers, sky cover overnight Sat. to Sun. 100%, winds E to SE, 8 to 10 to 7 MPH, Low 32, 12a to 9a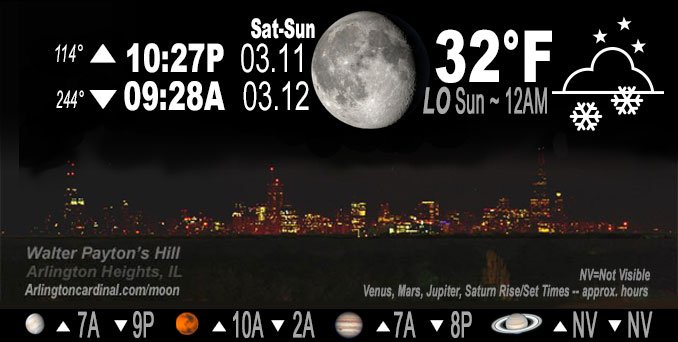 NWS CHGO | NWS HRLY | /NWSchicago | 🌡
ARLINGTON HEIGHTS WEATHER
▴ forecast7 (Arl. Hts.) | RADAR | WIDE RADAR
⏪ Hrly Data Table | Hrly Future Graph ⏩
IMPORTANT NOTE ON NWS DATA
======================
NIGHT FORECASTS …
NOTE: Keep in mind lunar rise and set times don't always correspond with night weather and early morning lows because on some days during the month the moon is visible in the sky predominantly during the daytime hours.
Overnight Saturday/Sunday …
Weather Hazards expected
Limited Snow risk.
DISCUSSION…
Snow accumulations generally under two inches are expected tonight, with snow developing in the evening and tapering off early Sunday morning. Slushy accumulations are likely on some roads. NOTE: Actual snow accumulation was zero on pavement, and less than 0.5 inch on grass.
Hello mobile users! If you encounter a mobile "unfriendly" weather page, turn your phone sideways for a better view. Snow cover was almost entirely melted by Sunday evening.
======================
O'HARE FORECAST …
Forecast Beginning Saturday Night, Mar. 11, 2023 …
Saturday Night: A chance of rain and snow between 7pm and 10pm, then snow. Low around 32. East southeast wind 5 to 10 mph. Chance of precipitation is 90%. New snow accumulation of less than one inch possible.
Sunday: Snow showers likely before noon, then scattered rain and snow showers. Cloudy, with a high near 36. East southeast wind 5 to 10 mph becoming west in the afternoon. Winds could gust as high as 15 mph. Chance of precipitation is 70%. New snow accumulation of less than a half inch possible.
Sunday Night: A 40 percent chance of snow showers, mainly before midnight. Mostly cloudy, with a low around 28. West wind around 15 mph, with gusts as high as 25 mph.
Monday: A 20 percent chance of snow showers. Cloudy, with a high near 34. Breezy, with a north northwest wind 15 to 20 mph, with gusts as high as 30 mph.
Monday Night: Partly cloudy, with a low around 20.
Tuesday: Sunny, with a high near 34.
Tuesday Night: Mostly clear, with a low around 21.
Wednesday: Mostly sunny, with a high near 48.
Wednesday Night: Mostly cloudy, with a low around 43.
Thursday: A chance of rain. Mostly cloudy, with a high near 54.
Thursday Night: Rain likely. Cloudy, with a low around 34.
Friday: A chance of rain. Mostly cloudy, with a high near 45. Breezy.
Weather Forecast, Night Sky Archive NWS O-Hare
Weather Forecast, Observations Archive NWS O-Hare
O'Hare forecast archive and hourly weather observations archive are available HERE on the CARDINAL NEWS Magazine.
KORD/KPWK Hourly Weather Observations
Arlingtoncardinal.com/moonphases
Arlingtoncardinal.com/nightsky
NIGHT SKY THIS MONTH …
Check the night sky objects for this month and past months in the playlist from the Space Telescope Science Institute YouTube channel Backyard stargazers get a monthly guide to the northern hemisphere's skywatching events with "Tonight's Sky" (Musical track The Far River written by Jonn Serrie, from the album And the Stars Go With You courtesy of New World Music Ltd. Musical track The Far River written by Jonn Serrie, from the album And the Stars Go With You courtesy of New World Music Ltd).
Telephoto lens, ISO 100, f/11, Shutter Speed 1/100 to 1/125 for the Moon.
Get updates from The Cardinal ALL NEWS FEEDS on Facebook. Just 'LIKE' the 'Arlington Cardinal Page (become a fan of our page). The updates cover all posts and sub-category posts from The Cardinal — Arlingtoncardinal.com. You can also limit feeds to specific categories. See all of The Cardinal Facebook fan pages at Arlingtoncardinal.com/about/facebook …

Help fund The Cardinal

Arlingtoncardinal.com/sponsor
Telephoto lens, ISO 1600, f/11, Shutter Speed 2.5″ for the skyline. The skyline exposure was toned down, and brightness and contrast was adjusted in Photoshop.
Area Forecast Discussion
National Weather Service Chicago/Romeoville, IL
1058 PM CST Sat Mar 11 2023
.UPDATE… Issued at 849 PM CST Sat Mar 11 2023
Light to moderate snow has just about filled in across the northern part of the CWA, namely areas north of I-80. Webcams across the Rockford metro and vicinity show snow accumulating on cooler surfaces and even a few roads are beginning to gather a dusting. Further south, we`re seeing light rain and rain/snow mix filling in where there`s just enough positive energy above the surface to melt the snow on its way down. As we continue to cool both diurnally and dynamically with still a little bit of room between temps and wet bulbs, we should see the rain/snow line dro Psouth through the remainder of the evening and into the overnight. Additionally, many areas across the metro have been struggling with some dry air through roughly the 800-900mb layer inhibiting precip aloft from reaching the ground over the past couple of hours. However, ACARS soundings out of MDW show that we`ve recently managed to overcome that thanks to modest, albeit ample, low level warm advection, a tad earlier than RAP and HRRR soundings were suggesting we would. RAP mesoanalysis places a notable swath of 700mb f-gen over the central and western CWA on the leeward side of the encroaching trough which lines up well with where we`ve been seeing the more moderate snowfall which has been pulling visibilities down as low as one mile here and there. This f-gen is expected to continue pushing to the northeast with the trough through the rest of this evening. The better synoptic forcing will also eject to the northeast as the trough axis approaches meaning we`ll likely see the heaviest of the snow over the next few hours. Snow is still expected to continue through the night but will lighten up as forcing lets up and we maybe see little bit of dry advection near 925mb, or so the RAP and HRRR say though it`s tough to nail down where that`s coming from. All in all, the forecast through the night looks to be on track.
Doom
&&
.SHORT TERM… Issued at 308 PM CST Sat Mar 11 2023
Through Sunday night…
A pair of upper level disturbances are noted in the water vapor imagery across the Plains early this afternoon. The first of these is currently shifting eastward into the Lower to Mid- Missouri Valley, while a more pronounced northern stream upper low is moving eastward into western North Dakota. These features will play a large role in our sensible weather tonight through early Monday.
While cloud cover has been, and will continue to be persistent through the day, warm air advection in advance of the approaching Mid-Missouri Valley disturbance is helping drive temperatures well into the 30s (with some low 40s south) as of this writing. Expect these readings to hold steady in the 30s to around 40 into early this evening. Precipitation is expected to hold off across the area through late this afternoon. Thereafter, we should see the warm air advection driven precipitation shield across IA steadily translate eastward across the area through the evening in concert with the parent mid-level disturbance.
While the entire area looks to see precipitation from this event tonight, overall amounts will be much lower than they were with Thursdays weather system. However, precipitation types do look to be a bit tricky again with this event, especially for areas south of I-80, where warmer boundary layer conditions will reside into early this evening. These slightly warmer conditions will likely result in areas south of I-80 onsetting as a period of rain for a few hours this evening before potentially mixing with a bit of wet snow later in the evening. Farther to the north, a brief rain snow mix is possible at onset, but slight cooler conditions should support primarily wet snow shortly after onset. While some wet snow accumulations still appear likely tonight, especially for northern areas, light precipitation rates and marginal surface temperatures should keep total amounts mainly under 2″. In fact, many areas are likely to see less than an inch, and mainly on grassy and elevated surfaces!
The main mid-level disturbance (the primary forcing mechanism) is expected to shift east of the area a bit after midnight tonight. As it does so, a much drier mid-level airmass is expected to shift overhead atop a lingering low-level moist layer. In spite of this, light precipitation is likely to continue across the area overnight as low-level isentropic upglide continues in this moist layer in response to the northern stream system shifting into the Upper Midwest. While precipitation type may continue to support some light snow overnight, there is concern that the snow quality will become rather poor overnight, possibly even mixing with (or changing to) drizzle at times as the much drier mid-level airmass shifts overhead. This suggests that any additional snow accumulations late tonight into early Sunday morning may become minimal.
The lower level moist layer should become deep enough across far northern IL to support a continued period of snow showers mid to late Sunday morning as low-level warm air advection continues. While this is the case, marginal surface temperatures during the daylight hours will once again limit any minor slushy accumulations to grassy areas and elevated surfaces. Temperatures should warm close to 40 early Sunday afternoon, so any lingering precipitation there will likely fall as light rain. Late in the day and into the early evening hours, the northern stream system is expected to drive a cold front eastward across the area. This may result in a quick moving area of rain and snow showers as the front interacts with a corridor of steep low-level lapse rates. Certainly cannot rule out some minor accumulations with this across parts of northeastern IL, especially if a brief period of heavy rates materialize, but the main limiting factor for much in the way of accumulation will be the warm surface temperatures preceding the front.
Another period of possibly more robust snow showers looks possible either very late Sunday night, or early Monday morning as a secondary cold front and an attendant mid level disturbance drops southward across the area. This potential will have to be monitored as it could occur during the early Monday morning rush.
KJB/NWS Chicago