Thursday Hi 76, partly sunny, chance thunderstorm, likely after 5p, winds S to SSW to SW to W, 12 to 21 to 16 MPH, G21 to 34 to 22 MPH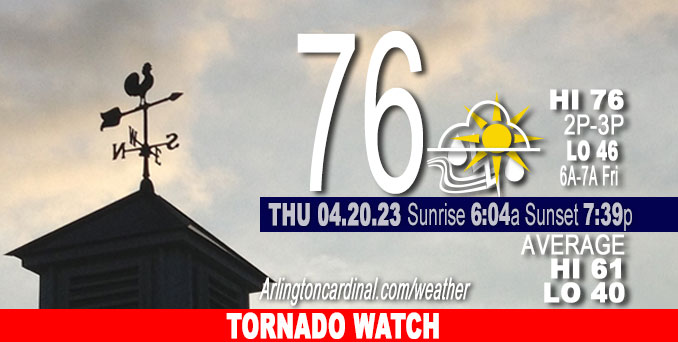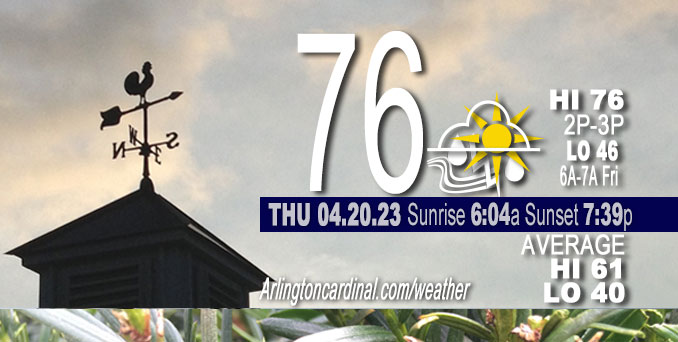 NWS CHGO | NWS HRLY | /NWSchicago | 🌡
ARLINGTON HEIGHTS WEATHER
▴ forecast7 (Arl. Hts.) | RADAR | WIDE RADAR




O'Hare (history KORD, left)
⏪ Hrly Data Table | Hrly Future Graph ⏩
IMPORTANT NOTE ON NWS DATA
Arlington Heights (history KPWK, left)
⏪ Hrly Data Table | Hrly Future Graph ⏩
Hello mobile users! If you encounter a mobile "unfriendly" weather page, turn your phone sideways for a better view.
======================
Thursday and Thursday Evening …
Weather Hazards expected …
Elevated Thunderstorm Risk…with an associated:
Limited Tornado Risk.
Limited Hail Risk…up to half dollar size.
Limited Damaging Wind Risk…up to 60 mph.
Elevated Non Thunderstorm Wind Risk.
Elevated Fire Weather Risk.
DISCUSSION…
A couple rounds of showers and thunderstorms are expected today into this evening. If cloud cover and showers keep temperatures cooler than expected this afternoon, then that would greatly reduce the risk of any severe weather. However, if there is some sunshine this afternoon and temperatures are able to heat up, then conditions would likely become favorable for severe thunderstorms late this afternoon into very early this evening. If severe thunderstorms occur, they would be capable of producing large hail, tornadoes, and perhaps locally damaging winds.
Outside of any thunderstorms, southerly winds will gusts to between 35 and 45 mph. The strongest winds are expected east of I-57 and across northwest Indiana.
Weather forecast for Thursday, April 20, 2023.
TORNADO WATCH OUTLINE UPDATE FOR WT 154
NWS STORM PREDICTION CENTER NORMAN OK
205 PM CDT THU APR 20 2023
TORNADO WATCH 154 IS IN EFFECT UNTIL 800 PM CDT FOR THE FOLLOWING LOCATIONS
ILLINOIS COUNTIES INCLUDED ARE
BOONE, BUREAU, CARROLL, COOK
DE KALB, DUPAGE, FULTON, GRUNDY,
HANCOCK, HENDERSON, HENRY, JO DAVIESS,
KANE, KANKAKEE, KENDALL, KNOX, LAKE,
LA SALLE, LEE, LIVINGSTON, MARSHALL,
MCDONOUGH, MCHENRY, MCLEAN, MERCER,
OGLE, PEORIA PUTNAM, ROCK ISLAND, STARK,
STEPHENSON, TAZEWELL, WARREN, WHITESIDE,
WILL, WINNEBAGO, WOODFORD
======================
O'HARE FORECAST …
Forecast Beginning Thursday, Apr. 20, 2023
Thursday: Showers and thunderstorms likely, mainly after 5pm. Mostly cloudy, with a high near 76. Breezy, with a south wind 15 to 20 mph, with gusts as high as 35 mph. Chance of precipitation is 60%. New rainfall amounts between a quarter and half of an inch possible.
Thursday Night: Showers and thunderstorms likely, mainly before 10pm. Mostly cloudy, with a low around 46. Breezy, with a west wind 15 to 20 mph decreasing to 10 to 15 mph after midnight. Winds could gust as high as 30 mph. Chance of precipitation is 60%. New precipitation amounts between a tenth and quarter of an inch, except higher amounts possible in thunderstorms.
Friday: Partly sunny, with a high near 62. South southwest wind 5 to 15 mph, with gusts as high as 25 mph.
Friday Night: A 20 percent chance of showers before 1am. Mostly cloudy, with a low around 39. West wind 5 to 15 mph.
Saturday: A 30 percent chance of showers, mainly after 1pm. Partly sunny, with a high near 49. Breezy, with a west wind 10 to 20 mph, with gusts as high as 25 mph.
Saturday Night: Mostly cloudy, with a low around 35.
Sunday: Mostly cloudy, with a high near 48.
Sunday Night: Partly cloudy, with a low around 33.
Monday: Mostly sunny, with a high near 55.
Monday Night: Mostly cloudy, with a low around 40.
Tuesday: Partly sunny, with a high near 57.
Tuesday Night: A chance of showers. Mostly cloudy, with a low around 42.
Wednesday: A chance of showers. Mostly cloudy, with a high near 55.
Weather Forecast, Observations Archive NWS O-Hare
Weather Forecast, Night Sky Archive NWS O-Hare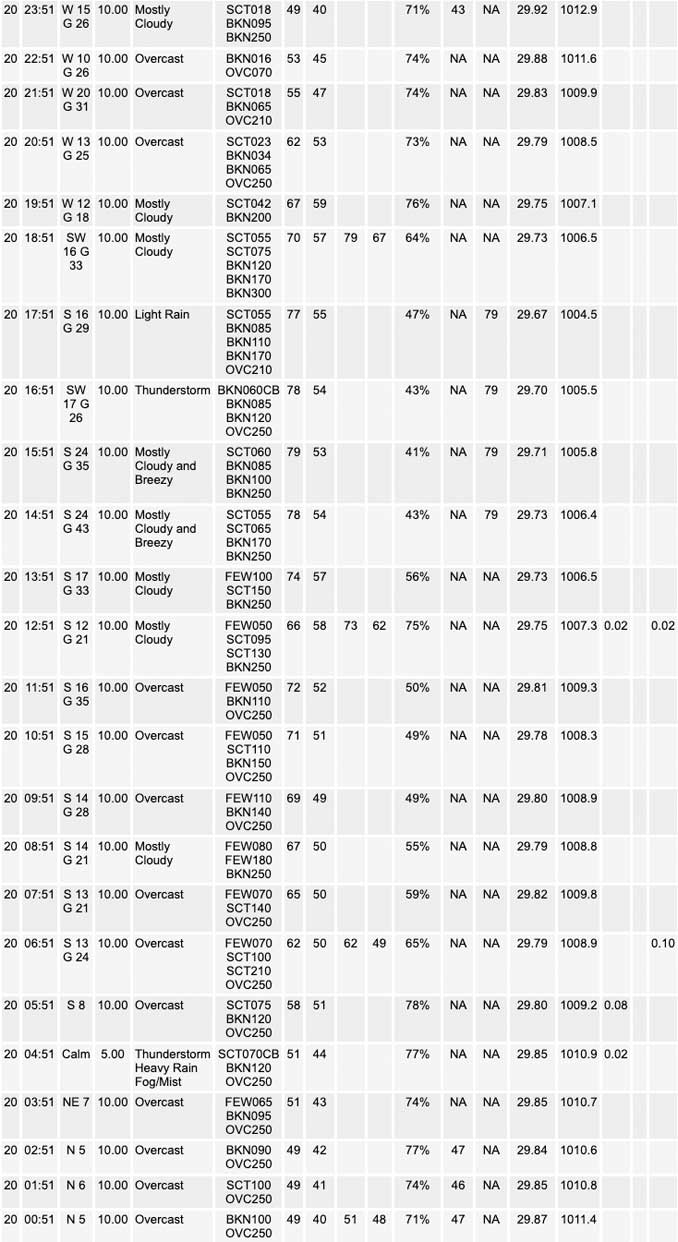 KORD & KPWK Hourly Weather Observations









NORTH AMERICA BELOW (SCROLL ⇩⇩)
Weather WIDE (MOBILE TURN SIDEWAYS)
SPC Convective Outlook on
CHICAGOWEATHERSTATION.COM

ChicagoWeatherStation.com I O'Hare Normal Temps/Precip I O'Hare Record Temps, Precip, Snow
WunderMap® with Temperature/Wind Data || Google: Arlington Heights Area Temps | US TEMPS
Midwest Cloud Cover with Arlington Heights Weather Forecast
ChicagoWeatherStation.com I O'Hare Normal Temps/Precip I O'Hare Record Temps, Precip, Snow
SUNLIGHT DATA FOR SECURITY, TRAFFIC SAFETY, AND SPORTS
SunCalc.net data with solar azimuth and trajectory, times for dawn, sunrise, solar noon, sunset, dusk …
Tweets by @CardinalWeather
NIGHT SKY THIS MONTH …
Backyard stargazers get a monthly guide to the northern hemisphere's skywatching events with "Tonight's Sky." Check the night sky objects for this month and past months in the playlist from the Space Telescope Science Institute YouTube channel (Musical track The Far River written by Jonn Serrie, from the album And the Stars Go With You courtesy of New World Music Ltd).
Get updates from The Cardinal ALL NEWS FEEDS on Facebook. Just 'LIKE' the 'Arlington Cardinal Page (become a fan of our page). The updates cover all posts and sub-category posts from The Cardinal — Arlingtoncardinal.com. You can also limit feeds to specific categories. See all of The Cardinal Facebook fan pages at Arlingtoncardinal.com/about/facebook …

Help fund The Cardinal

Arlingtoncardinal.com/sponsor
/////////////>
Area Forecast Discussion
National Weather Service Chicago/Romeoville, IL
646 AM CDT Thu Apr 20 2023
.SHORT TERM… Issued at 326 AM CDT Thu Apr 20 2023
Through Friday…
* One or more rounds of showers and t-storms expected through tonight * Marginal (level 1 of 5) severe weather risk, with risk of large hail, damaging winds, and even a tornado threat if boundary layer destabilizes * Strong synoptic southerly winds today, gusts 35-45 mph expected, strongest over SE CWA, where wind advisory is being issued
Tricky forecast today with at least some potential for a sneaky problematic severe weather event in our CWA. Unfortunately, evolution of convection today isn`t clear which raises considerable doubts about magnitude of boundary layer destabilization.
Early this morning, several clusters of thunderstorms are in progress from the Cornbelt southwest into the central Plains with at least 3 probable MCVs. A pair of MCVs over eastern IA are moving northeast into drier and more capped environment. Guidance does suggest rapid weakening of the associated convection with both of these MCVs and recent radar trends would certainly support that notion. Another cluster of intense convection is organizing over northeastern KS, with what looks like another MCV developing with this cluster. This KS convection is developing just downstream of a fairly well defined shortwave trough across eastern KS.
Will need to closely monitor the progression and evolution of the developing MCS over northeastern KS as this will likely play a substantial role in determining our ultimate severe weather threat. Evening soundings from across the central Plains to the mid Mississippi Valley show very steep lapse rates aloft associated with a broad and strong EML. Moisture return in advance of this trough has been somewhat anemic, but still enough to support intense convection thanks to the cold air aloft and stee Plapse rates. It seems reasonable that this MCV with its associated convection will be in a weakening state as it moves across our area late this morning into early this afternoon.
Assuming this MCS is weakening and doesn`t have a strong cold pool associated with it, then it is plausible that the atmosphere could quickly recover in its wake. Given the strength of the synoptic system and impressive EML, can`t discount potential for rapid recovery, which is being depicted by most guidance which has a narrow ribbon of moderate sfc based instability ahead of the approaching cold front. Assuming that models aren`t too weak with lead MCS and its footprint and that moderate boundary layer rooted instability does develop, then there could be a problematic severe weather threat later this afternoon.
Shear profiles are forecast to become concerning this afternoon as strong mid and upper level jet streak rounds the base of the trough and noses into the region. It is concerning to see so many models depicting a ribbon of 1000-1500 j/kg of MLCAPE ahead of the front this afternoon. If that degree of instability can materialize, the forecasted wind profiles would be quite favorable for supercells, with an attendant tornado potential. If instability ends up on the higher end of the spectrum, then could be a threat for a stronger tornado. This isn`t necessarily the most likely scenario given questions about lead MCS`s impact on boundary layer destabilization, but given the strength of the synoptic system and potential for rapid recovery combined with the very impressive shear profiles, today will be a day to closely monitor mesoscale trends.
In the warm sector, with even just some modest heating, should be able to mix into very strong winds aloft with southerly winds potentially gusting to around 45 mph. Best chance of mixing into this higher momentum air is across our southeastern CWA and have hoisted a wind advisory there in coordination with ILX and IWX. If lead MCS doesn`t limit insolation as much as expected, then it is plausible that the wind advisory could need to be expanded farther north and west, but would like to let day shift get a look at observational trends and make that call later this morning.
Cold front moves across the area tonight bringing an end to the thunderstorm threat. Some showers could linger into Friday morning over NW IN, but we could muster out a decent spring day most of the CWA Friday. At least some partial clearing and pleasant temperatures before the bottom drops out over the weekend. Previously, looked like there could be some instability showers Friday, but latest guidance suggests air mass will be too dry, so removed those slight chance pops.
– Izzi/NWS Chicago