Monday Hi 55, mostly cloudy, light rain ending 12p, winds S to SW to W to NNW, 10 to 6 to 15 MPH, G20 to 26 MPH, 6p through Tuesday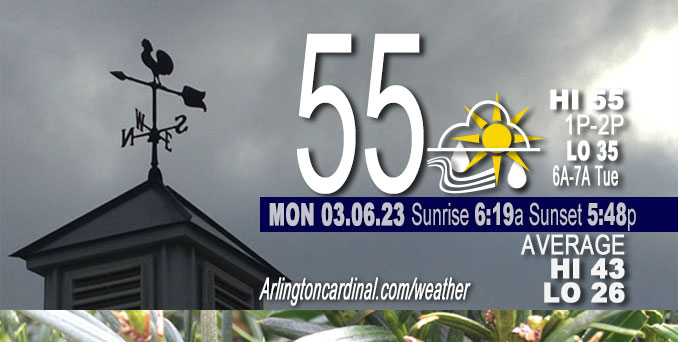 NWS CHGO | NWS HRLY | /NWSchicago | 🌡
ARLINGTON HEIGHTS WEATHER
▴ forecast7 (Arl. Hts.) | RADAR | WIDE RADAR




O'Hare (history KORD, left)
⏪ Hrly Data Table | Hrly Future Graph ⏩
IMPORTANT NOTE ON NWS DATA
Arlington Heights (history KPWK, left)
⏪ Hrly Data Table | Hrly Future Graph ⏩
======================
Monday and Monday Evening …
Weather Hazards expected …
Limited Thunderstorm Risk this afternoon southeast Chicagoland.
DISCUSSION…
There is a slight chance of thunderstorms this afternoon, mainly east of I-57. A few may produce small, non-damaging hail.
======================
O'HARE FORECAST …
Forecast Beginning Monday, Mar. 06, 2023
Monday: Showers likely, mainly before 4pm. Cloudy, with a high near 53. South wind 5 to 10 mph becoming north northwest. Chance of precipitation is 70%. New precipitation amounts of less than a tenth of an inch possible.
Monday Night: Cloudy, with a low around 35. North northwest wind 10 to 15 mph, with gusts as high as 25 mph.
Tuesday: Cloudy through mid morning, then gradual clearing, with a high near 41. Northeast wind around 15 mph, with gusts as high as 30 mph.
Tuesday Night: Mostly cloudy, with a low around 33. East wind 10 to 15 mph, with gusts as high as 20 mph.
Wednesday: Mostly cloudy, with a high near 41. East wind 10 to 15 mph.
Wednesday Night: Mostly cloudy, with a low around 32.
Thursday: A 20 percent chance of snow after 1pm. Mostly cloudy, with a high near 40.
Thursday Night: Rain and snow likely between 7pm and 1am, then snow. Cloudy, with a low around 34. Breezy.
Friday: Snow before 7am, then rain and snow likely. Mostly cloudy, with a high near 41.
Friday Night: A chance of rain and snow before 7pm, then a chance of snow. Mostly cloudy, with a low around 27.
Saturday: A chance of snow. Mostly cloudy, with a high near 36.
Saturday Night: Mostly cloudy, with a low around 27.
Sunday: Partly sunny, with a high near 36.
Weather Forecast, Observations Archive NWS O-Hare
Weather Forecast, Night Sky Archive NWS O-Hare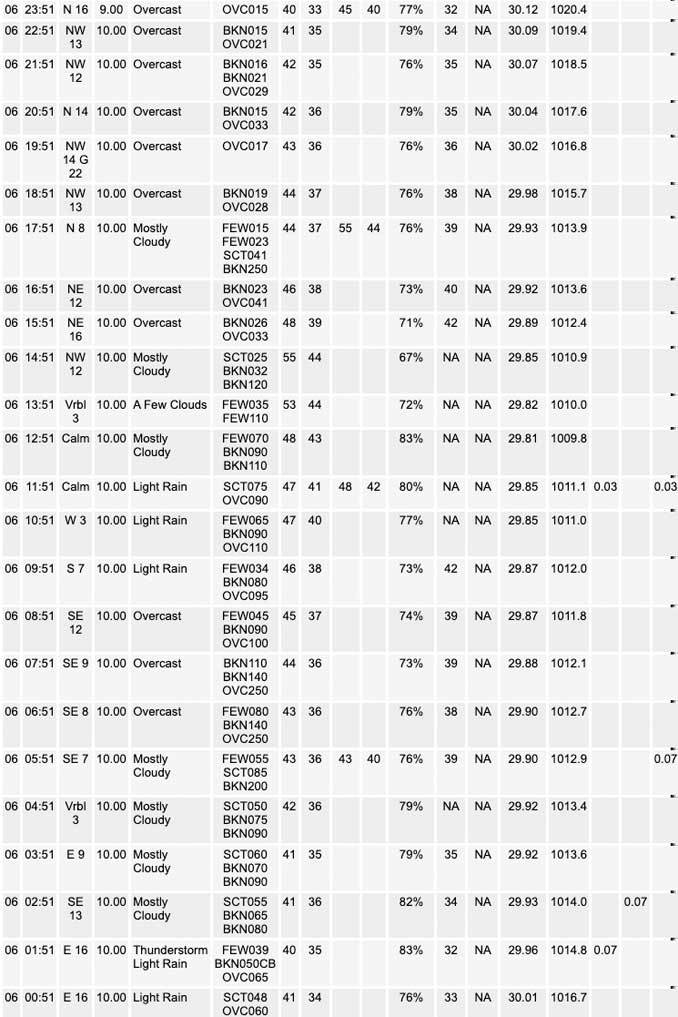 KORD & KPWK Hourly Weather Observations









NORTH AMERICA BELOW (SCROLL ⇩⇩)
Weather WIDE (MOBILE TURN SIDEWAYS)
SPC Convective Outlook on
CHICAGOWEATHERSTATION.COM

ChicagoWeatherStation.com I O'Hare Normal Temps/Precip I O'Hare Record Temps, Precip, Snow
LIVE RADAR | STORM TRACKS | UNISYS US IR SAT | UNISYS Midwest IR SAT | UNISYS More IR SAT
WunderMap® with Temperature/Wind Data || Google: Arlington Heights Area Temps | US TEMPS
Full Screen Motion Weather Radar (Wunderground.com)
Midwest Cloud Cover with Arlington Heights Weather Forecast
ChicagoWeatherStation.com I O'Hare Normal Temps/Precip I O'Hare Record Temps, Precip, Snow
SUNLIGHT DATA FOR SECURITY, TRAFFIC SAFETY, AND SPORTS
SunCalc.net data with solar azimuth and trajectory, times for dawn, sunrise, solar noon, sunset, dusk …
Tweets by @CardinalWeather
NIGHT SKY THIS MONTH …
Backyard stargazers get a monthly guide to the northern hemisphere's skywatching events with "Tonight's Sky." Check the night sky objects for this month and past months in the playlist from the Space Telescope Science Institute YouTube channel (Musical track The Far River written by Jonn Serrie, from the album And the Stars Go With You courtesy of New World Music Ltd).
Get updates from The Cardinal ALL NEWS FEEDS on Facebook. Just 'LIKE' the 'Arlington Cardinal Page (become a fan of our page). The updates cover all posts and sub-category posts from The Cardinal — Arlingtoncardinal.com. You can also limit feeds to specific categories. See all of The Cardinal Facebook fan pages at Arlingtoncardinal.com/about/facebook …

Help fund The Cardinal

Arlingtoncardinal.com/sponsor
Area Forecast Discussion
National Weather Service Chicago/Romeoville, IL
603 AM CST Mon Mar 6 2023
.SHORT TERM… Issued at 231 AM CST Mon Mar 6 2023
Through Tuesday…
Disorganized cluster of showers and thunderstorms that`s been moving across the area since last evening should clear our eastern CWA by around 09z. Should a break in the precipitation during the predawn hours before one more batch of showers and possibly a couple isolated storms moves across the CWA later this morning through the early afternoon.
Subtle shortwave and associated 130-140kt 250mb jet streak across the Cornbelt early this morning are progged to translate eastward across the western Great Lakes today. Divergence in the right entrance region of this jet streak is progged to result in a blossoming area of showers over the next couple hours over southern Iowa and northern Missouri. SPC mesoanalysis does show a lingering plume of steep mid level lapse rates and cold air aloft which may be enough for a couple hundred j/Kg of elevated CAPE over northern IL this morning. While modest, the instability may be enough to support some isolated thunderstorms embedded within the broader area of showers. Latest regional 88d mosaic does show some showers developing over south central IA, which is probably the beginnings of our morning rain. This activity should end from west to east late this morning into the early afternoon.
Temps are tricky today with guidance varying in track of sfc low. The ECMWF has been and remains the farthest north, which would bring the warm sector north into most of our CWA. Most other guidance has more well developed low tracking over central IL with weak inverted trough extending from the low into northern IL. It does seems like there could be a few hour window this afternoon in the wake of the showers and in advance of the sfc low/inverted trough for temps to warm up. Continue to lean on the warmer side of the guidance spectrum, but worth noting the bust potential (especially for Chicago metro west along the I-80 and I-88 corridors is larger than average for high temps today. Very plausible scenarios exist for highs 5-8F cooler than our forecast and as much as about 5F warmer.
Cold air advection will result in a much colder tonight, but cloud cover looks to remain fairly extensive, muting the cooling. Guidance is pretty unanimous in clearing skies out Tuesday afternoon, even the typically pessimistic NAM, so caved and do have skies clearing out in the grids Tuesday afternoon. Seasonably cool temps expected Tuesday with winds off the lake keeping lake adjacent areas a few degrees colder.
– Izzi/NWS Chicago
UPDATE… Issued at 1128 AM CST Mon Mar 6 2023
Showers continue to fester in the I-88 to I-80 stretch late this morning at the nose of a zone of 850-700 mb warm advection and within a mid-level speed max of around 60 kt at 700 mb and 80 kt at 500 mb. This will be slow to depart the area, including continued frontogenesis (f-gen) near 700 mb and should continue some showers longer than it had initially looked like. The isolated thunder should work its way east-southeast through early afternoon within the steep elevated lapse rate plume. There have been spotty small hail (half inch or less) observed via mPing and public reports, and any taller cores may still yield that.
The surface low is verifying on a more southern track, and as of 11 AM is centered near Peoria. The warm front is just entering the southern CWA, with mid 60s about to be ushered into the area south of the Kankakee River Valley. North of there, especially along and north of I-80, temperatures have been lowered with any southerly winds looking to be brief as well as continued clouds and festering showers. Highs may not reach 50F in a few locations, including near the lake where onshore flow, albeit light, will more regularly prevail given the low track.
In the far southeast CWA within the warm sector and ahead of the cold front later this afternoon, there is an opportunity 3-6 PM for isolated convection to develop. The RAP forecast, which has a decent handle of temperatures though is a little moist on its dew points per surface obs, does indicate as much as 100-150 J/kg of vertically-narrow CAPE in the far southeast (Iroquois, Benton, Newton, Jasper Counties). Convection allowing models (CAMs) show a spread on whether or not redevelopment, but could result in a couple thunderstorms if there were to be some sprouting showers.
MTF/NWS Chicago